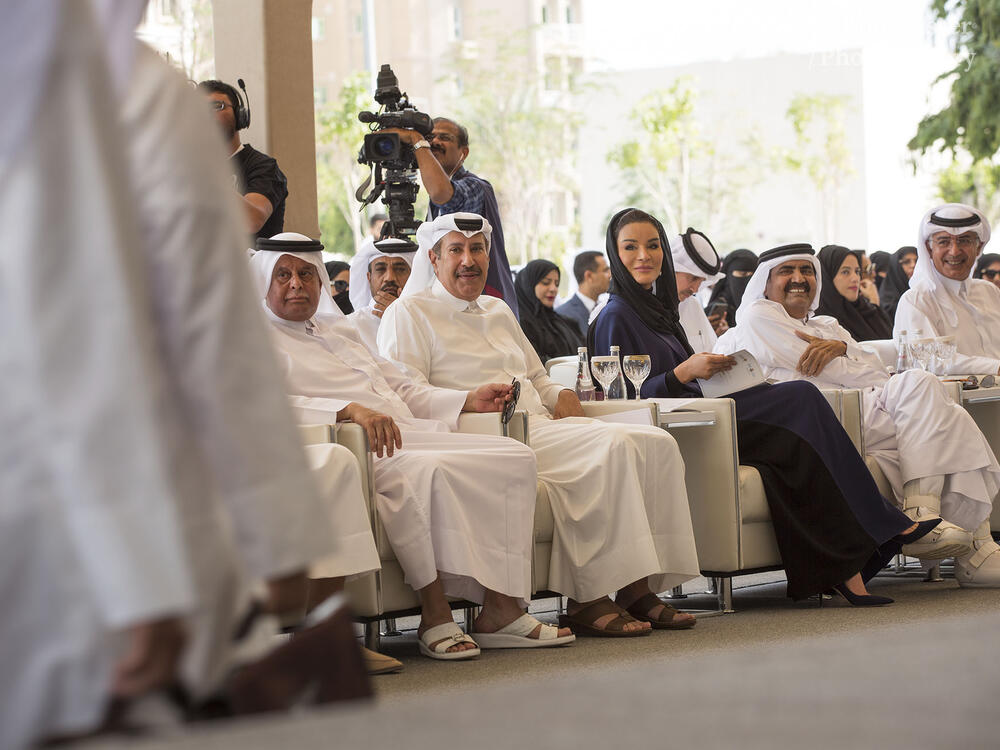 Their Highnesses attend official reopening of Tariq bin Ziad School
---
His Highness Sheikh Hamad bin Khalifa Al Thani, the Father Amir, and Her Highness Sheikha Moza bint Nasser, Chairperson of Qatar Foundation, today attended the official opening ceremony of Tariq Bin Ziad School, under the umbrella of Qatar Foundation.
The event was also attended by His Highness Sheikh Abdullah bin Khalifa Al Thani, ministers and dignitaries, senior figures from Qatar Foundation, alumni of Tariq Bin Ziad School, and parents of the school's current students.
Speaking at the official opening of the school, His Excellency Sheikh Hamad bin Jassim bin Jaber said: "I am honored to be one of the alumni of Tariq Bin Ziad School. We are here today to proudly relaunch this school as it continues its journey of nurturing a new generation.
"Through their constant support for the human development of the children of this country, the leadership of Qatar is demonstrating its recognition that education is the path to preparing and empowering our young people, in terms of their perspectives, their minds, their souls, their behaviors, and their sense of national identity; and that knowledge and faith remain the best way of advancing and sustaining our community. This community is built on cooperation, solidarity, and a commitment to serving the needs of Qatar.
"I would like to take this opportunity, while speaking about this historic school, to emphasize that it has been renewed under the umbrella of Qatar Foundation, while retaining its original spirit and identity."
The celebration also included a performance by students depicting the environment of the school in the 1970s, as well as an exhibition chronicling its story from its establishment in the 1960s to the present day.
Tariq Bin Ziad School, which came under the umbrella of Qatar Foundation at the start of the current academic year, offers a bilingual co-educational Primary Years Programme that follows the International Baccalaureate curriculum, with additional aspects that reflect the importance and the enduring relevance of Qatari heritage.
The school focuses on providing quality education that prepares children to be future leaders and active citizens, while being rooted in Arabic cultural heritage, identity, and values, and the Arabic language, and has an academic focus that extends into the community. It currently caters from students from PS3 to Grade 1, with one grade level being added each year until Grade 5.
Included in the exhibition retelling Tariq Bin Ziad School's history were photographs, videos, artefacts, school magazines, and furniture which was once part of its learning environment, alongside a gallery of photographs of its current students and faculty.