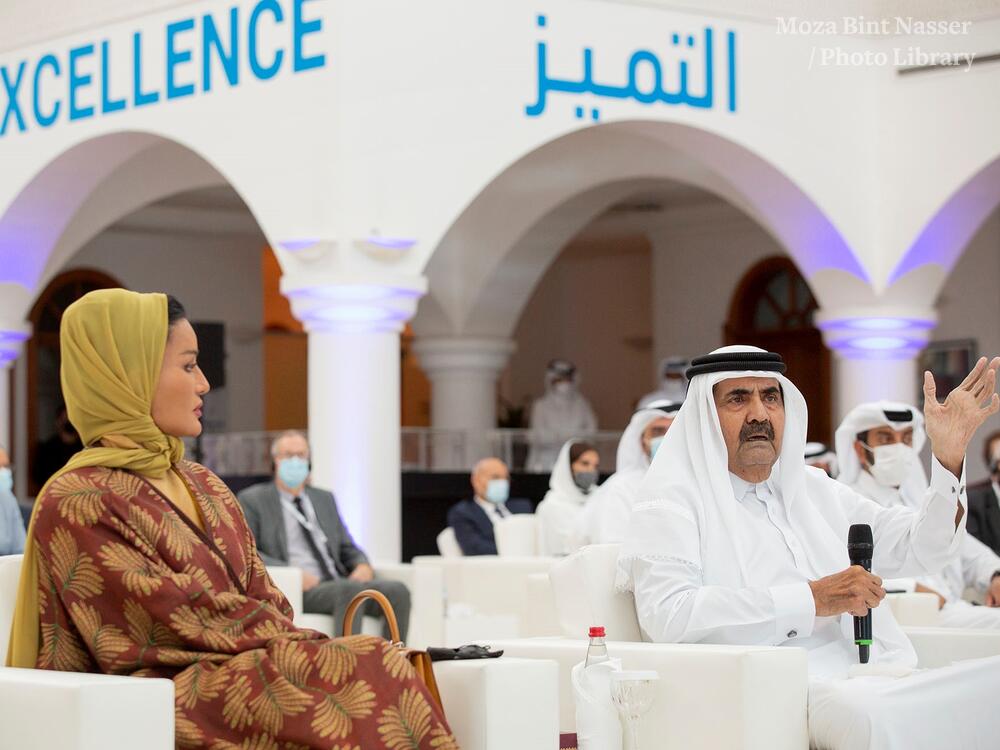 Their Highnesses attend HBKU 10th anniversary celebration
---
His Highness the Father Amir Sheikh Hamad bin Khalifa Al Thani and Her Highness Sheikha Moza bint Nasser, Chairperson of Qatar Foundation (QF), attended Hamad Bin Khalifa University (HBKU)'s 'Decade of Excellence' 10th anniversary celebration today at the university's headquarters in Education City, where they reaffirmed the role of this homegrown institution in innovating and developing the nation's intellectual capacity and scientific research capabilities.
Speaking at this occasion, His Highness the Father Amir urged the importance of scientific research for the development of future generations, saying: "If we want to develop and create a new nation, there must be robust scientific research and endowments that are specified for use in education and health."
On her part, Her Highness emphasized the critical role of the university in developing national and regional scientific research, saying: ""Hamad Bin Khalifa University was established on a solid research base. We aimed to promote a culture of scientific research, to ensure that HBKU can become a national platform for research and for finding effective solutions to environmental, societal, economic, and security challenges. Now, HBKU also bears the responsibility of localizing global scientific research, and building on it and adapting it as befits Qatari and Muslim society. I hope HBKU will be worthy of carrying the name of the founder of Qatar's modern renaissance, His Highness Sheikh Hamad Bin Khalifa."
During the event, HBKU launched the inaugural "HBKU Dialogues", a new initiative that aims to encourage the open exchange of ideas on topics of national and global relevance. The first dialogue featured a panel of eminent thought leaders, including the Minister of Environment and Climate Change, HE Sheikh Dr. Faleh bin Nasser Al-Thani; the former Minister of Energy and Industry, HE Dr. Mohammed bin Saleh Al-Sada; and the President of Qatar University, Dr. Hassan Rashid Al-Derham, who spoke on "Investment in Scientific Research and its Impact on Sustainable Development and a Knowledge-Based Economy".
HE Sheikha Hind bint Hamad Al Thani, CEO and Vice Chairperson of Qatar Foundation, and Chairperson of HBKU's Board of Trustees, said: "Driven by a pioneering spirit, HBKU's aspirations reflect our shared vision for an ecosystem of interconnected learning within Education City. In this vision, collaboration and community provides the foundation for personalized learning opportunities from pre-school to graduate studies and helps learners reach their full potential. We look forward to continuing this journey with the HBKU faculty, staff, students and community partners."
In his speech, HBKU President Dr. Ahmad M. Hasnah appreciated the guidance and vision of HH the Father Amir, HH Sheikha Moza, and the leadership of QF, in supporting the institution's growth and educational endeavors. He also touched on the key achievements which marked HBKU's first decade.
Dr. Hasnah said: "As part of Qatar Foundation's educational renaissance project, HBKU is at the heart of Qatar's strategy to invest in human capital and contribute to the diversification of the economy. The country's economic and social development demanded the critical thinking and skills that a high-quality research education could provide. These knowledge investments continue to support Qatar in achieving economic, social and sustainable development. Our goal moving forward is to lead all possible efforts in creating high-impact research outcomes and addressing areas of vital national importance, including artificial intelligence, climate change, and quantum data analysis. We remain deeply connected to our society by initiating meaningful conversations; we have launched the HBKU Dialogues to mobilize and bridge our research efforts and our community outreach initiatives."
He continued: "We are proud that HBKU's alumni community encompasses more than 1,250 graduates. Our faculty and researchers work across HBKU's six colleges and three national research institutes to advance its vision of delivering a globally relevant research and educational experience."