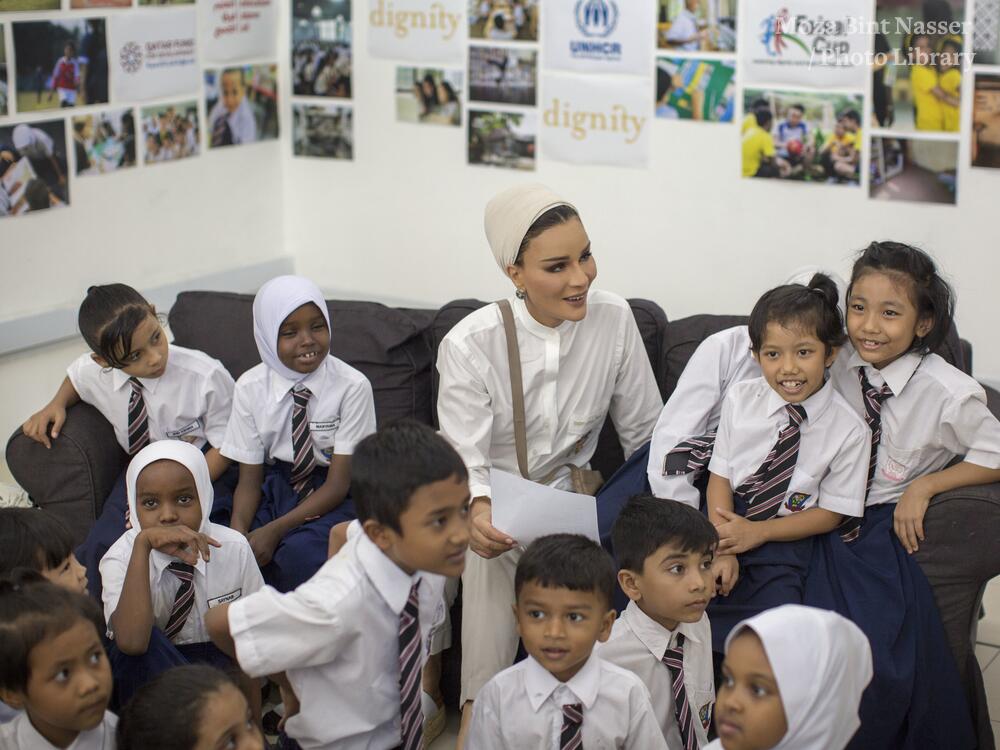 HH Sheikha Moza visits refugee children at Education Above All projects in Malaysia
---
Her Highness Sheikha Moza bint Nasser, Chairperson of Education Above All (EAA), visited and saw at first-hand the achievements of refugee students at two of the 131 learning centres supported by EAA's Educate A Child (EAC) and UNHCR in Malaysia, the Dignity School and the Sahabat Support Centre School.
At Dignity School, UN High Commissioner for Refugees Filippo Grandi joined Her Highness, where they spoke to teachers, parents and students about their experiences of learning and the importance of primary education in preparing students for transition to higher levels of education and future careers. 
Afterwards, Her Highness joined the annual carnival organised by Sahabat Support Centre School, which has refugee students from 17 countries, was held for around 300 children where they participated in various sports activities and showcased their artwork and handmade crafts. 
"It is clear from what I have seen here in Malaysia that quality primary education can truly change the course of a child's life," said Her Highness.  "Equipping refugees with knowledge and skills also means they can be assets to their host countries and later support the rebuilding of their home countries.  I'm proud of the work being done here and thankful to Malaysia and its people for helping these children to have a better life." 
The visit follows a newly signed agreement between Education Above All and UNHCR to enroll over 450,000 more forcibly displaced out of school children in 15 countries across the globe.  The nearly US$100 million plan is a significant expansion on long-standing cooperation between the two agencies. Support for this partnership project will include a contribution from EAA's strategic partner, Qatar Fund for Development. 
"With over four million refugee children currently out of school worldwide, there is so much more to do," Her Highness said.  "I urge more partners to come forward – we all need to be playing our part to get more children into classrooms - which is where they belong."
Since 2012, EAA and its partners have supported more than 7.5 million out of school children in 50 countries with access to education. Some 2.3 million of these children are refugees or internally displaced.