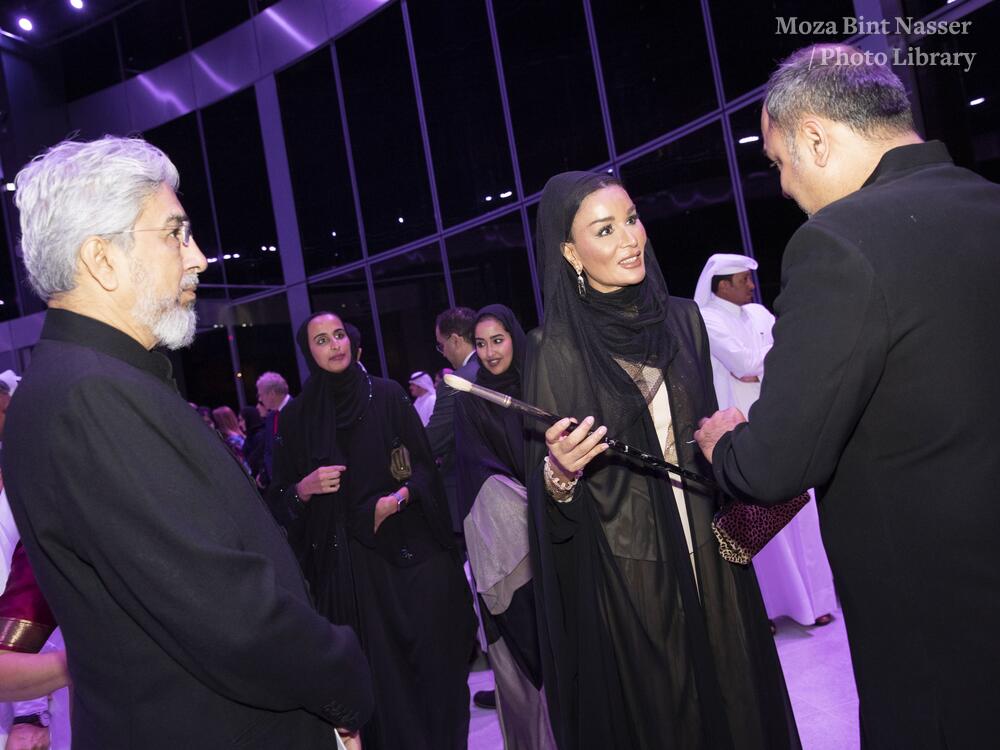 HH Sheikha Moza unveils final artwork by M.F. Husain
---
Her Highness Sheikha Moza bint Nasser, Chairperson of Qatar Foundation, tonight attended the inauguration of the Seeroo fi al Ardh – the final work of world-renowned artist Maqbool Fida Husain – at Education City.
The unique, experiential art installation, which chronicles the journey of human civilization through the lens of the Arab region's history, was unveiled at a ceremony also attended by Her Excellency Sheikha Hind bint Hamad Al Thani, Vice Chairperson and CEO of Qatar Foundation, dignitaries, senior figures from Qatar Foundation, representatives of local and international art institutions, and members of Husain's family.
The Seeroo fi al Ardh is part of a wide-ranging project on Arab civilization that was undertaken by Husain, alongside a series of paintings that reflect the 99 names of Allah, the Merciful, the Compassionate. Husain passed away before the Seeroo fi al Ardh could be finished, after which Qatar Foundation completed the installation – which is housed within a permanent building close to Al Shaqab equestrian center at Education City, and will be open to the public – incorporating every aspect of the artist's original plan.
At its inauguration, guests learned the story behind the elements that comprise the Seeroo fi al Ardh: the flying machines of Abbas Ibn Firnas and Leonardo da Vinci, glass horses, and vintage cars, which move to music selected by Husain and are set against the backdrop of a giant mosaic of horses, a tribute to Qatar's equine heritage as well as the artist's love of the animals.
They then witnessed the first performance of the Seeroo fi al Ardh's main show, which reflects how the ambitions of people throughout the Arab region were advanced first by nature, then by machines, and how the Arab world was home to an age of enlightenment, innovation, and experimentation even before the European Renaissance.