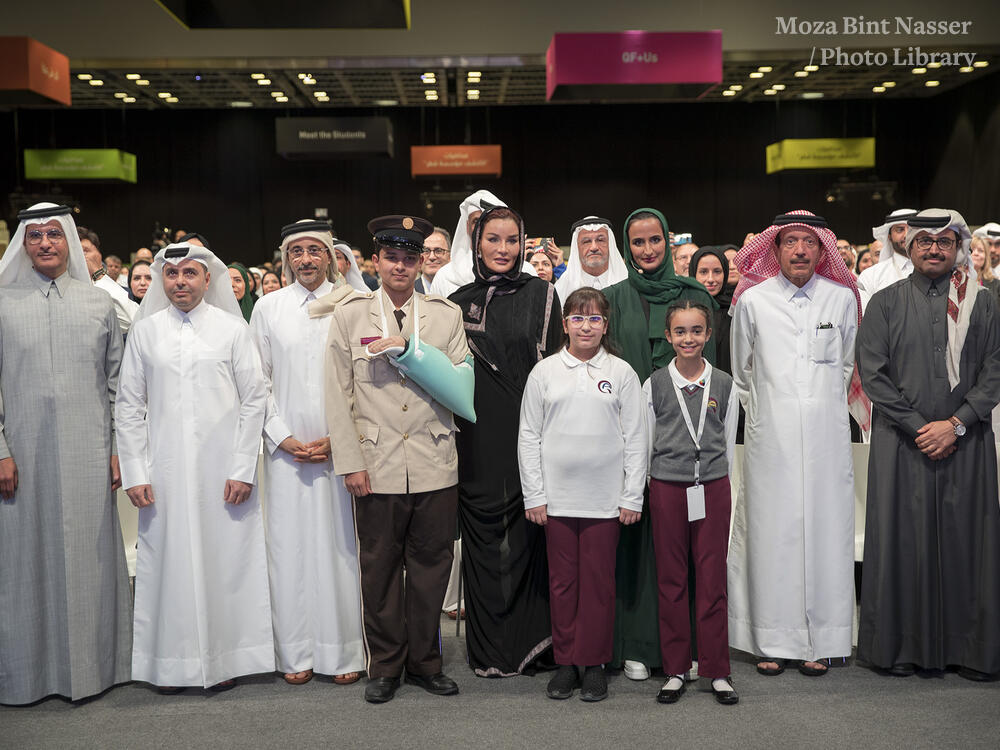 HH Sheikha Moza participates in I AM QF to mark 25 years of achievements for Qatar Foundation
---
Her Highness Sheikha Moza bint Nasser, Chairperson of Qatar Foundation, today participated in I AM QF – an event that celebrated the 25th anniversary of the organization that her vision made possible, and the benefit it has brought to Qatar and the world – alongside Qatar Foundation members and stakeholders.
A day that marked a milestone in the journey of Qatar Foundation (QF) saw thousands of members of its community – from staff and students to teachers, faculty, and researchers – join ministers, university and industry leaders, and other guests at Qatar National Convention Centre to reflect on what QF has achieved since its establishment in 1995, and look to the future.
As one of its centerpieces, I AM QF featured a high-level panel discussion moderated by Her Excellency Sheikha Hind bint Hamad Al Thani, Vice Chairperson and CEO of Qatar Foundation, where speakers from some of QF's key stakeholders focused on how collaboration – one of the core principles of QF – can advance Qatar's development, strengthen its human capacity, and enable its people to realize their full potential.
Speaking during the panel discussion, Her Highness Sheikha Moza bint Nasser said: "Today I am glad to see faces that have always been present throughout all of QF's achievements. The main challenge that we faced was always to try convincing others to make a positive change, and that is through education, because education is our true wealth.
"We focused on building our education ecosystem based on our heritage not against it. And looking at the activities here today, I was pleased to see how proud and confident the Qatari youth are in their culture and identity, and in speaking the Arabic language. This is what we have been aspiring to create through Qatar Foundation, as well as throughout other educational institutions in Qatar.
"It was a dream, and we made it come true through Qatar Foundation and its stakeholders."
The discussion saw Her Excellency Sheikha Hind being joined by Her Excellency Lolwah Rashid Al Khater, Assistant Foreign Minister and Official Spokesperson for the Ministry of Foreign Affairs; Sheikh Dr. Mohammed Bin Hamad Al Thani, Director of Public Health, Ministry of Public Health; Dr. Hassan Rashid Al-Derham, President of Qatar University; and Dominic Genetti, Vice President and Joint Venture Executive Director, ExxonMobil Qatar. They explored how collaboration has already benefited Qatar, how it can be enhanced, and what it can mean for the future of the nation.