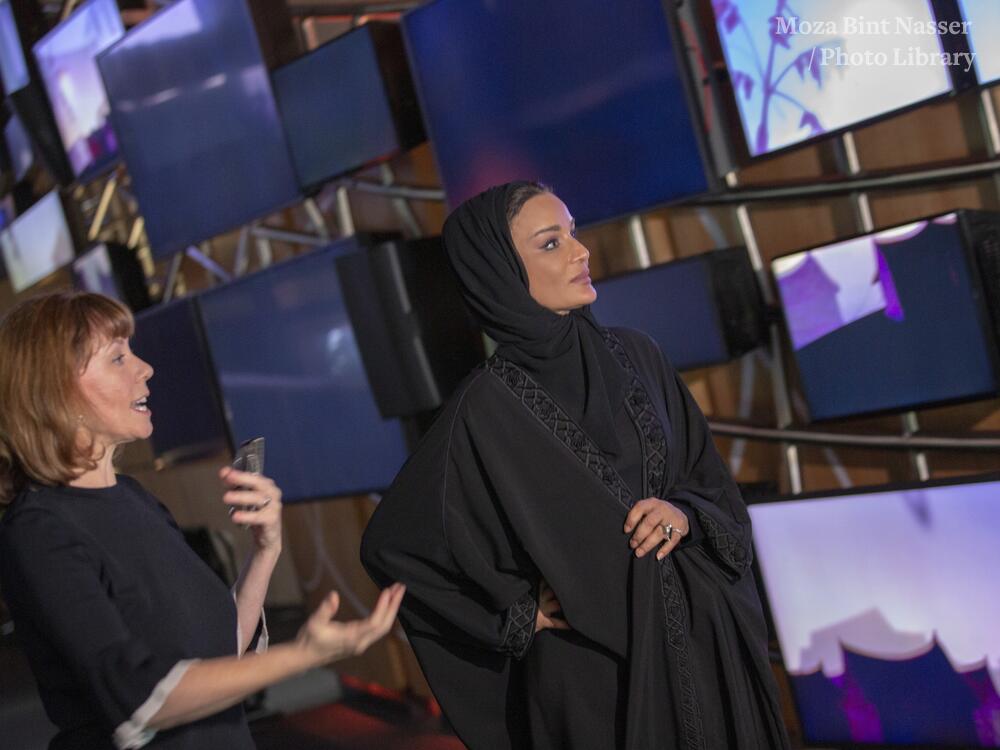 HH Sheikha Moza officially opens region's first media museum, "The Media Majlis"
---
Her Highness Sheikha Moza bint Nasser, Chairperson of Qatar Foundation for Education, Science and Community Development (QF), today officially dedicated The Media Majlis at Northwestern University in Qatar, a unique and interactive museum nestled in the heart of one of the largest and most advanced media schools in the world.
The colorful ceremony at the Qatar Foundation partner university was also attended by Her Excellency Sheikha Hind bint Hamad Al Thani, Vice Chairperson and CEO of Qatar Foundation, alongside dignitaries, Northwestern administration, and media professionals.
Speaking at the dedication ceremony, Her Excellency Sheikha Hind said: "At Qatar Foundation, we continue to be a platform for the expression and exploration of different ideas and perspectives, where people are encouraged to challenge the status quo through knowledge.
"The Media Majlis demonstrates how narratives exist to be explored and challenged rather than simply accepted; and how connecting with different voices, standpoints, and ideas extends the boundaries of our understanding, nourishes critical and original thought, and enriches lives."
Her Highness Sheikha Moza and Her Excellency Sheikha Hind toured the first exhibition, entitiled "Arab Identities, images in film," which provides an exploration of how over a century's worth of film history has shaped and been shaped by notions of Arab identities.
The Media Majlis is the first museum of its kind in the region and the first university museum in Qatar. It is an active and empowering space where people can engage with the exhibition's content and programs which focus on communication, journalism, and media in the Arab world; as well as contribute to the global conversation on the continually changing landscape of media.