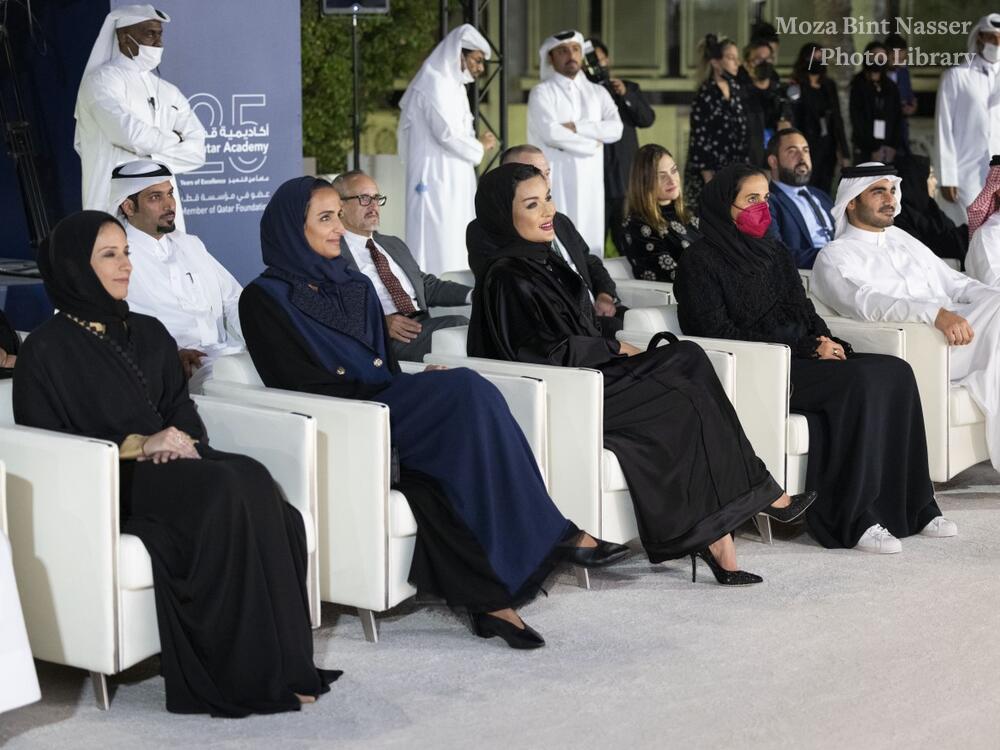 HH Sheikha Moza attends Qatar Academy Doha's 25th anniversary celebration
---
Her Highness Sheikha Moza bint Nasser, Chairperson of Qatar Foundation, has attended the 25th anniversary celebration of Qatar Academy Doha – Qatar Foundation's first school, and the seed from which its ecosystem of education, research and innovation, and community development grew.
The event at Qatar Academy Doha's (QAD) Senior School was also attended by Her Excellency Sheikha Hind bint Hamad Al Thani, Vice Chairperson and CEO of Qatar Foundation, alongside VIPs and over 150 QAD alumni who, during their time at the school, were equipped to be become future leaders and drivers of change.
Since its establishment in 1996 – the year after Qatar Foundation (QF) was founded – with just 24 students, QAD has nurtured over 1,200 graduates. Almost 1,900 students are currently studying at the Education City school, which offers an innovative and personalized academic program that has a strong focus on Arabic and Islamic studies, and opportunities for experiential, real-world learning.
During the ceremony, Her Excellency Sheikha Hind presented Her Excellency Buthaina bint Ali Al Jabr Al Nuaimi, Minister of Education and Higher Education, with a special gift in appreciation of her 15 years as President of QF's Pre-University Education prior to her ministerial appointment this year.
Following a film chronicling the 25-year story of QAD, some of its alumni shared their memories of their time at the school and explained how it prepared them for the future, while also sending personal messages to the QAD students of today. The audience at the event – moderated by Sultan Al-Sulaiti, who graduated from QAD in 2017 and is now a Qatar Petroleum engineer – were also shown a film illustrating the success stories of the school's alumni, with a group of current QAD students treating the celebration to a musical performance.
The history of the school was displayed through an exhibition of QAD yearbooks stretching back to 1996, newspaper articles of notable visits to the school, old class pictures, and student artworks. The 25th anniversary celebration also saw the launch of the Qatar Academy Doha Alumni Association, which will provide a platform for the school's former students to renew and maintain connections.