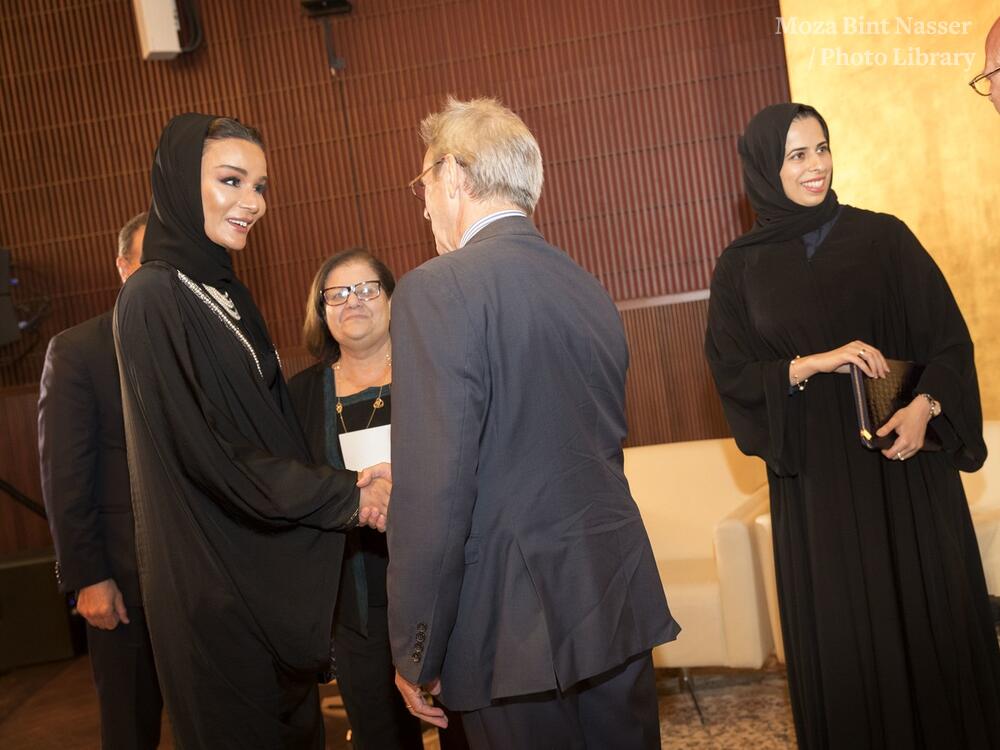 HH Sheikha Moza attends celebration of Georgetown University in Qatar's research impact
---
Her Highness Sheikha Moza bint Nasser, Chairperson of Qatar Foundation (QF), attended Georgetown University in Qatar's "GU-Q 100: A Celebration of Knowledge", an event to commemorate more than one hundred books published by faculty and staff since the university's doors opened in 2005, as well as the concorrent centennial anniversary of the home campus's Edmund A. Walsh School of Foreign Service (SFS).
Her Excellency Sheikha Hind bint Hamad Al Thani, Vice Chairperson and CEO of Qatar Foundation, was the guest speaker at the ceremony, marking a major milestone in the collaboration between QF and Georgetown University that began with the launch of its Doha campus in support of the development goals of Qatar National Vision 2030.
Speaking at the event, Her Excellency Sheikha Hind said: "Through its wealth of research in the field of humanities and social sciences, Georgetown University in Qatar has made a significant contribution to the international profile of QF and Qatar as a hub of new knowledge, original thought, and intellectual courage in confronting issues that influence what our world is, and what it can be.
"Being based in Qatar has opened up fresh avenues of discovery for Georgetown faculty, enabling them to explore and research the MENA region from close up rather than far afield, and use this proximity to create a deeper bank of knowledge and academic thought."
The evening gala, held on GU-Q's Education City campus, gathered deans of QF partner universities, members of the diplomatic community, students, faculty, staff, and other special guests, including Her Excellency Lulwa Al-Khater, Ministry of Foreign Affairs Spokesperson, who participated as a panelist.