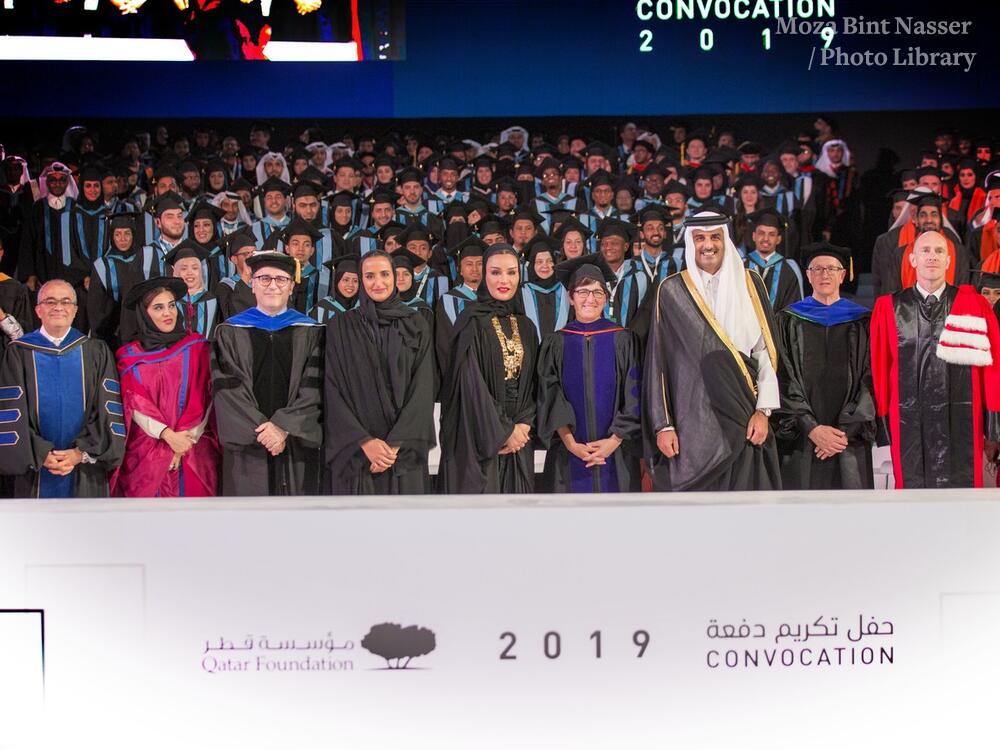 HH the Amir and HH Sheikha Moza attend 2019 Qatar Foundation Convocation
---
His Highness the Amir Sheikh Tamim bin Hamad Al-Thani attended the  QF's annual Convocation ceremony tonight, alongside Her Highness Sheikha Moza bint Nasser, Chairperson of Qatar Foundation for Education, Science and Community Development (QF),  honoring the academic achievements of 787 new QF graduates.
The Prime Minister and Minister of Interior His Excellency Sheikh Abdullah bin Nasser Al-Thani and Her Excellency Sheikha Hind bint Hamad Al Thani, Vice Chairperson and CEO of Qatar Foundation, also attended the event, held in Education City's Ceremonial Court, alongside dignitaries, university deans, faculty members, parents, and family members.
The Class of 2019 now join QF's growing global alumni network – which already has more than 5,000 members – having graduated in fields including medicine, engineering, art and design, computer science, law, communication, and Islamic studies. Tonight's Convocation ceremony was an opportunity for graduates from QF's nine universities to collectively look back on their time and accomplishments at Education City – and look to the future.
During the convocation, Her Highness Sheikha Moza awarded the Cycle 2 winner of the Akhlaquna Award to the project Mobsron, which was created by students Nawal Al-Kurbi, Almazun Al-Marri, and Amal Al-Gherainig. Mobsron is a mobile app that helps people who are blind and visually impaired to order food, review ingredients, and compare prices. Akhlaquna os an initiative announced by Her Highness  in 2017 that aims to help nurture positive behavioral change within society.