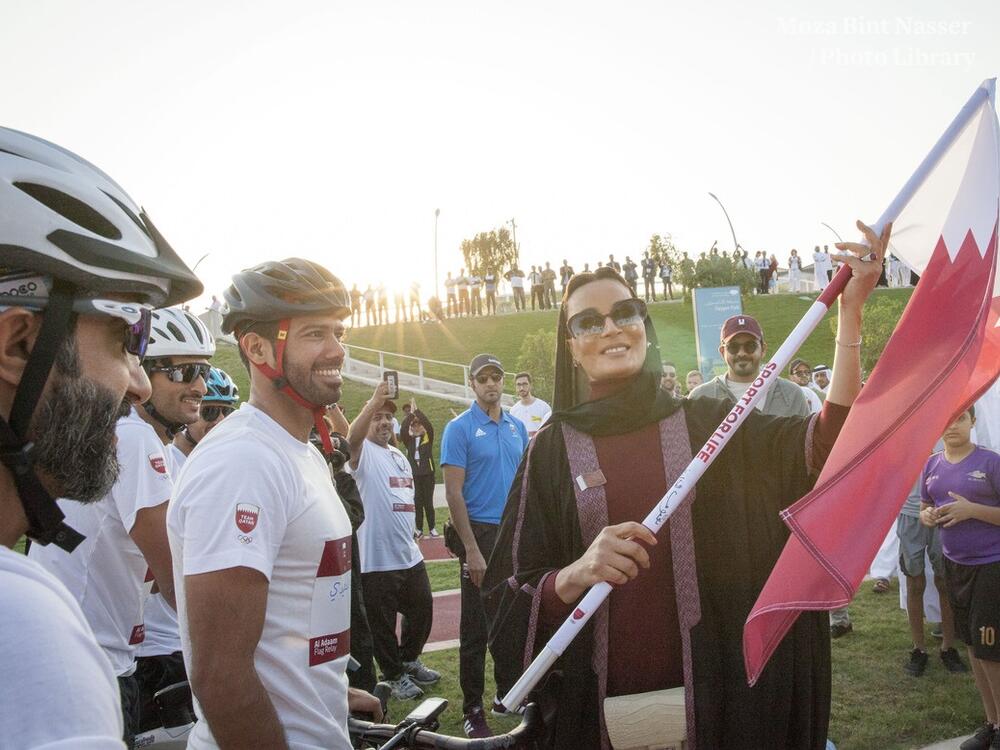 HH Sheikha Moza participates in QF stage of "Flag Relay"
---
Her Highness Sheikha Moza bint Nasser, Chairperson of Qatar Foundation for Education, Science and Community Development (QF), joined a country-wide display of national pride and unity at Oxygen Park today by participating in the 'Flag Relay', hosted by the Qatar Olympic Committee (QOC) to celebrate Qatar National Day.
Her Excellency Sheikha Hind bint Hamad Al Thani, Vice Chairperson and CEO of Qatar Foundation, and His Excellency Sheikh Joaan bin Hamad Al Thani, President of the Qatar Olympic Committee, attended the sport-themed event at the Education City part of the relay, which saw the Qatari flag carried by athletes, students, and members of the public. The stage of the Flag Relay that unfolded at QF concluded with Her Highness Sheikha Moza placing the flag into a special stand provided by QOC at Education City's Oxygen Park.
QF's involvement in the Flag Relay – which covered a distance of about 380km across Doha and, in addition to marking Qatar National Day, also served as a celebration of Qatar's sporting achievements – reflected its continued contribution to nurturing a strong, healthy, active, and engaged society in Qatar through its community development initiatives and programs.