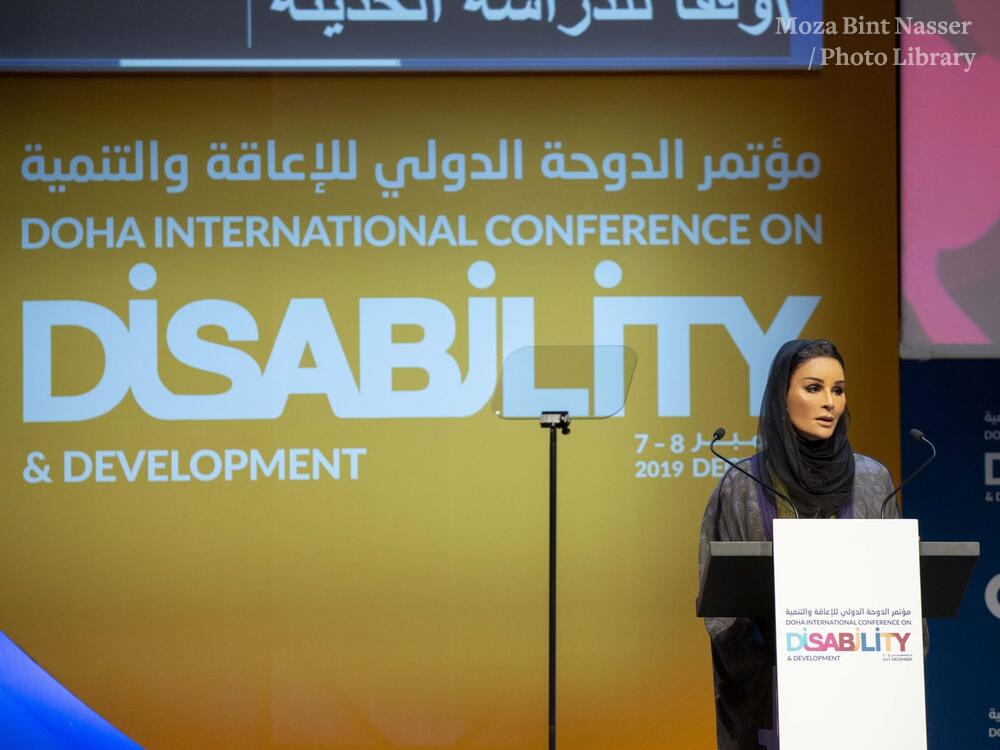 HH Sheikha Moza opens Doha International Conference on Disability and Development
---
Her Highness Sheikha Moza bint Nasser, Founder of Qatar Foundation for Social Work, participated at the opening of the inaugural Doha International Conference on Disability and Development, where she called to redefine the stereotypical understanding of disability to curb discrimination and misconceptions about people with disabilities.
During her opening speech, Her Highness emphasized how stereotypes and misconceptions, perpetuated by a prevalent social culture and mentality, shape current and past understandings of disability, often overlooking non-psychical and non-medical types of disabilities like the psychological ones brought on by harsh environments, whether related to family, society or the effects of war and conflict. 
"If our concept of disability is based on visible disability, and ignores hidden disability, then doesn't the illiterate suffer from an educational disability? Is ignorance not an intellectual disability? Isn't there also such a concept as political disability? And isn't the violation and assault against others a moral disability?" said Her Highness.
She continued: "I also believe distinguishing people apart based on the definition of disability implicates a form of discrimination. Sometimes, I even feel that the exceptions we make for people with disabilities, with the intention of showing sympathy toward them, do more harm than good."
In closing, Her Highness called on the global community to collaborate on mechanisms for greater investment in people with disabilities to allow them to play active roles in human development, especially through making education and employment opportunities more accessible.
After her speech, Her Highness toured the exhibition set up for conference to highlight the successes achieved by persons with disabilities.
The two-day conference, organized by Qatar Foundation for Social Work at the Qatar National Convention Center, gathered international and local leaders and stakeholders, including UN Deputy Secretary-General Amina Mohammed, to showcase achievements made by people with disabilities and reaffirm commitments to include them in all dialogue and human development efforts.