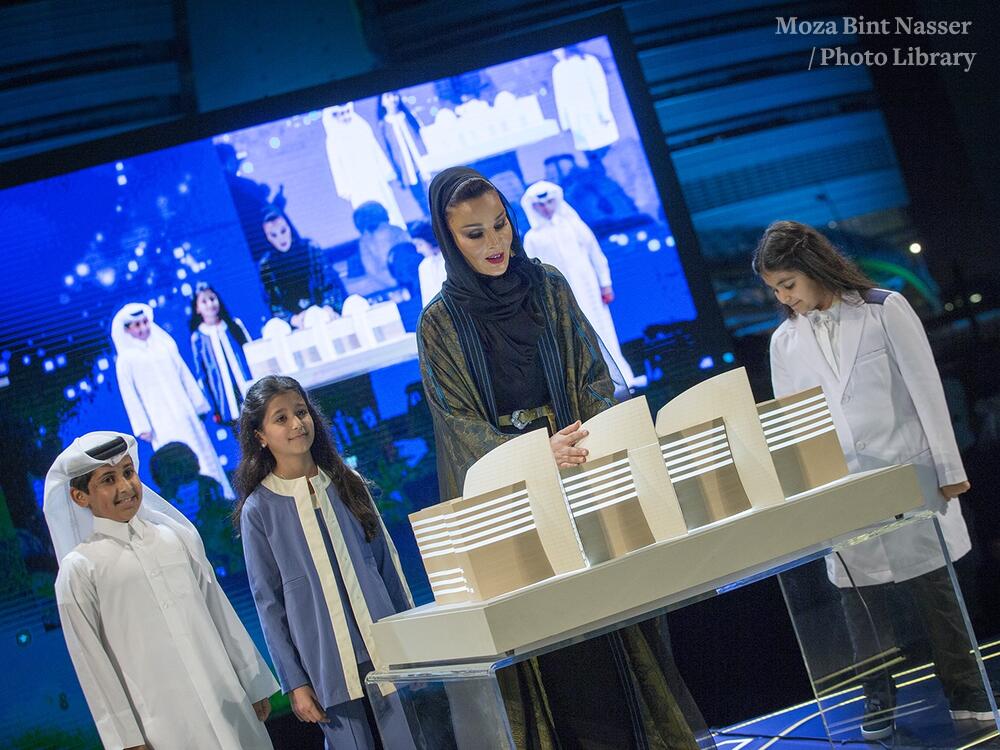 HH Sheikha Moza highlights country's healthcare commitment at Sidra Medicine Grand Opening Ceremony
---
His Highness the Father Amir Sheikh Hamad bin Khalifa Al-Thani and Her Highness Sheikha Moza bint Nasser, Chairperson of Qatar Foundation of Education, Science and Community Development (QF),
attended the Grand Opening Ceremony of Sidra Medicine this evening, ushering a new phase of healthcare in Qatar. 
During the ceremony, Her Highness officially inaugurated Sidra Medicine, member of Qatar Foundation, as a global medical center dedicated to providing healthcare for women and children, to contribute to enhancing the vision of the State of Qatar and increasing interest and commitment to developing the healthcare system to serve patients from Qatar, the region and beyond.
In her speech, Her Highness underlined that Sidra
Medicine in one of the most ambitious projects in the State of Qatar in the past two decades, which has quickly achieved positive impacts beyond national boundaries. She also emphasized Sidra Medicine's research capabilities in the genome field, which aims to create a research ecosystem and form the building blocks for "precision medicine." 
Her Highness announced the completetion of the first phase of the Qatar Genome Project, sequencing the genes of 10,000 Qatari nationals. She also announced the prioritization of the Genome Project as the new national health strategy named "Qatar Precision Medicine," or "QPM," in partnership between Qatar Foundation and the Ministry of Public Health.
"We have and continue to work in concerted efforts to achieve progress in all areas, positioning Qatar at the vanguard of a future only visionaries can reach," Her Highness said. "None of this would have been possible without the clear vision of our country's leadership and their unwavering support for development projects that drive the pillars of the Qatar National Vision 2030."
The ceremony was attended by His Excellency Prime Minister and Interior Minister Sheikh Abdullah bin Nasser bin Khalifa Al-Thani, and a number of senior officials and leaders from the health sector