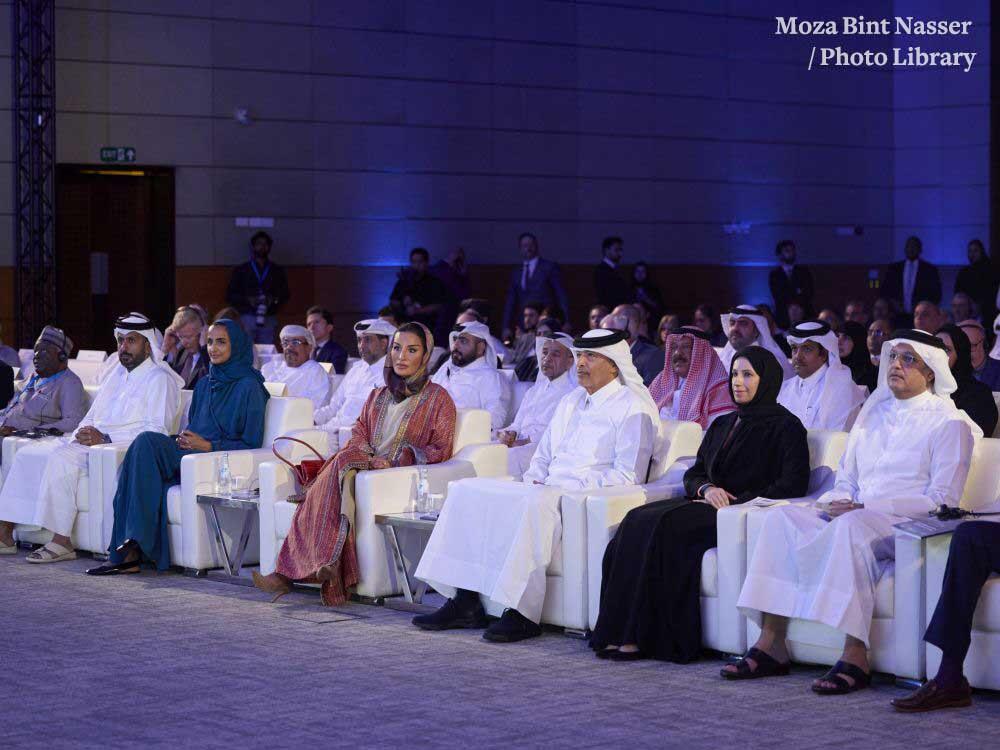 HH attends the Launch of HBKU's Global Institute for Strategic Research
---
In the presence of Her Highness Sheikha Moza bint Nasser, Chairperson of Qatar Foundation (QF), and Her Excellency Sheikha Hind bint Hamad Al Thani, Vice Chairperson and CEO of QF and Chairperson of Hamad Bin Khalifa University's (HBKU) Board of Trustees, HBKU, inaugurated the Global Institute for Strategic Research (GISR) as a new, independent and multidisciplinary think tank primarily concerned with addressing the global challenges of governance, advancement and peace. The inauguration was also attended by ministers, diplomats, and a distinguished assembly of dignitaries and experts from around the world.
"GISR reflects Qatar's prominent place at a major geopolitical crossroads and commitment to positively impacting and shaping debates on a multitude of global challenges facing humanity today, be it climate change, energy, the development of new technologies, water scarcity, poverty, conflict, or displacement of people. Through its research, thought leadership, and engagement activities, GISR aims to provide distinctly Arab and regional perspectives on the most pressing challenges facing Qatar, the Middle East and wider world today," said Dr. Ahmad M. Hasnah, President, HBKU.
As an Acting Director, Dr Sultan Barakat, Professor in Public Policy at HBKU's College of Public Policy, is leading the Institute through its early formation and will be guided by an international board of distinguished advisors with diverse backgrounds and extensive experience.
The launch comprised a number of panels and roundtable sessions with thought leaders from around the world contributing to discussions on artificial intelligence, energy transition, as well as the challenge of sustaining peace in fragile states. Senior experts from globally renowned think tanks and research centers, including the Center for Security and International Studies and the Stimson Center in Washington DC; the Overseas Development Institute and Chatham House in London; the Observer Research Foundation, New Delhi; as well as the Savannah Center, Abuja, traveled to Doha for the launch in a show of appreciation of the Institute, and in solidarity with its mission.
Reflecting on his role, Dr. Sultan Barakat, said: "I am honored to be entrusted with this leading global initiative. Within the boundaries of HBKU and the QF exosystem, we have a unique concentration of scholarship, talent and innovation that will allow GISR to act as a catalyst to channel ideas and bridge the gap between research and policymaking." 
The day concluded with the launch of a joint GISR, Doha Forum, and Stimson Center report titled The Future of International Cooperation 2023. Addressed to the 78th UN General Assembly, the report highlights how carefully designed, responsible initiatives in cyber-governance, including the regulation of AI, and reinvigorated peacebuilding can benefit people and nations and influence the outcomes of the Sustainable Development Goals.
Going forward, GISR will pursue to build a better understanding of the cultural, historic, political and other drivers of global challenges and shall seek to examine issues of global governance, advancement, peace and security in a holistic fashion. To do so, strong coherence and collaboration between policymaking at the national, regional and international levels are required. "We aim to create a safe environment where public policy debate can occur among scholars and policy makers both nationally and internationally. We hope that in time we will be able to build a sufficient level of trust with policy makers to nurture a durable relationship that builds, sustains, and connects national with global policy," said Dr. Barakat.