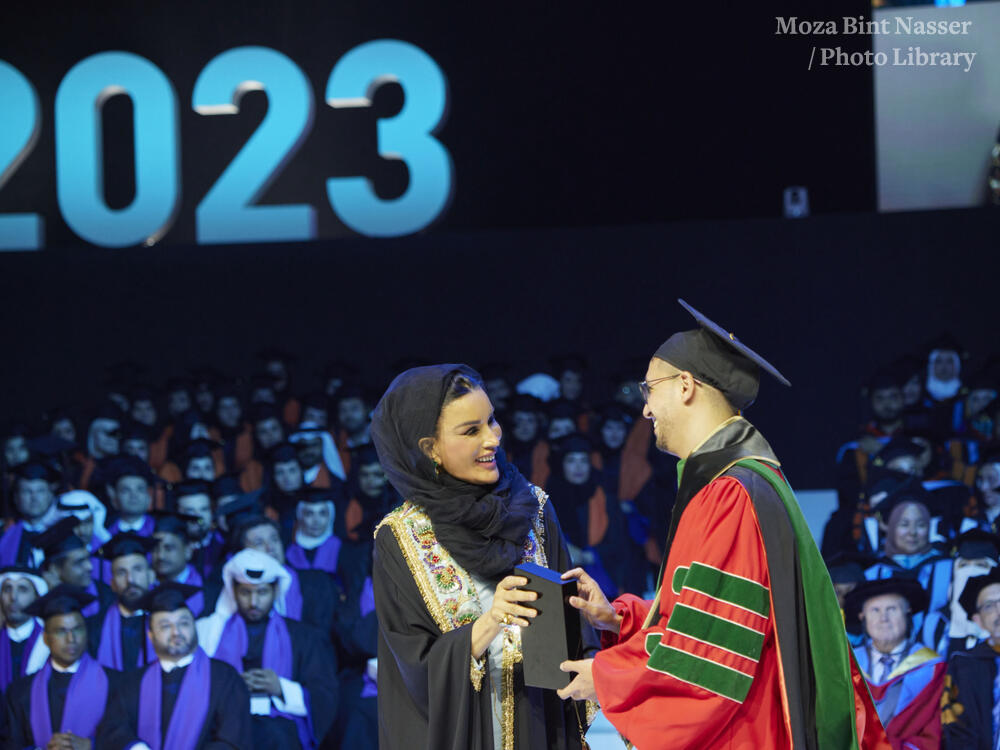 Her Highness attends QF's convocation ceremony 2023
---
Her Highness Sheikha Moza bint Nasser, Chairperson of Qatar Foundation, attended Qatar Foundation's 2023 Convocation ceremony, as 874 Education City graduates celebrated the culmination of years of dedication to knowledge, discovery, and learning.
Her Excellency Sheikha Hind bint Hamad Al Thani, Vice Chairperson and CEO of Qatar Foundation, also attended the ceremony, together with ministers, diplomats, university presidents, deans and faculty, and the families of graduates.
The Convocation ceremony celebrated students of 77 nationalities – including 313 Qataris – who graduated this year from QF's Hamad Bin Khalifa University and its partner universities, as they walked through the Door to the Future, a traditional Convocation moment symbolizing the start of the next stage in their journey.
Her Highness Sheikha Moza bint Nasser honored 16 graduates from across Education City who won Al Ihsan awards, recognizing their efforts in achieving academic excellence and demonstrating the leadership, innovation, and creativity that allows them to contribute to the world and empower others. Her Excellency Sheikha Hind presented each Class of 2023 graduate with a special Education City-inspired, Qatar-designed piece of jewelry as a Convocation gift.