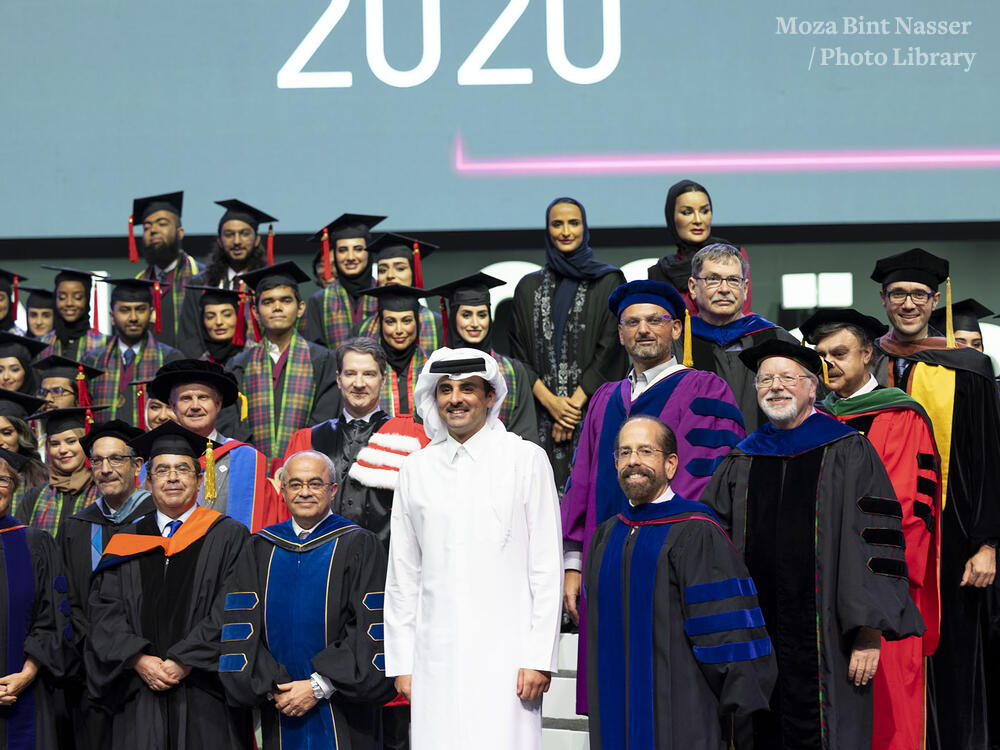 HIS HIGHNESS THE AMIR OF QATAR ATTENDS QF'S CONVOCATION CEREMONY
---
Milestone event brings students from universities at Education City together to reflect on experiences and achievements, and look to the future
Doha, Qatar, May 10, 2022: His Highness Sheikh Tamim bin Hamad Al Thani, the Amir of Qatar, attended the annual celebration which sees graduates of universities at Education City step into the next phase of their lives – Qatar Foundation's Convocation ceremony, held at Al Shaqab.
Her Highness Sheikha Moza bint Nasser, Chairperson of Qatar Foundation, and Her Highness Sheikha Jawaher bint Hamad bin Suhaim Al-Thani, Wife of His Highness the Amir of Qatar, were also in attendance.
The ceremony was also attended by His Excellency Mr. Hassan Abdulla Al-Ghanim, Speaker of the Shura Council, ministers, diplomats, university presidents, deans, and faculty, and the families of graduates.
Convocation celebrated more than 800 students from the Class of 2022 of Qatar Foundation's (QF) Hamad Bin Khalifa University (HBKU) and its partner universities – who, through their time at Education City, have been equipped to innovate, excel, and drive positive change in Qatar and beyond – as they took center stage to reflect on their achievements, and look to what the future holds.
And this year's Convocation celebrations also included QF's Classes of 2020 and 2021, with hundreds of graduates of these two classes attending the ceremony. They joined their 2022 counterparts in walking through the Door to the Future, the symbolic and traditional Convocation moment that represents the start of a new stage in their journeys after their experience and accomplishments within QF's globally unique educational landscape.
The Convocation ceremony saw QF pay tribute to its first president, Dr. Fathy Saoud, who played an instrumental role in the organization's evolution and the creation of its education ecosystem. Dr. Saoud passed away in January, and during the Convocation ceremony – at which a film chronicling his contribution to QF was shown – it was announced that the position of Chair Professor of Biological Sciences in the College of Health and Life Sciences at HBKU will be created in his name, with biological sciences having been Dr. Saoud's field of study.