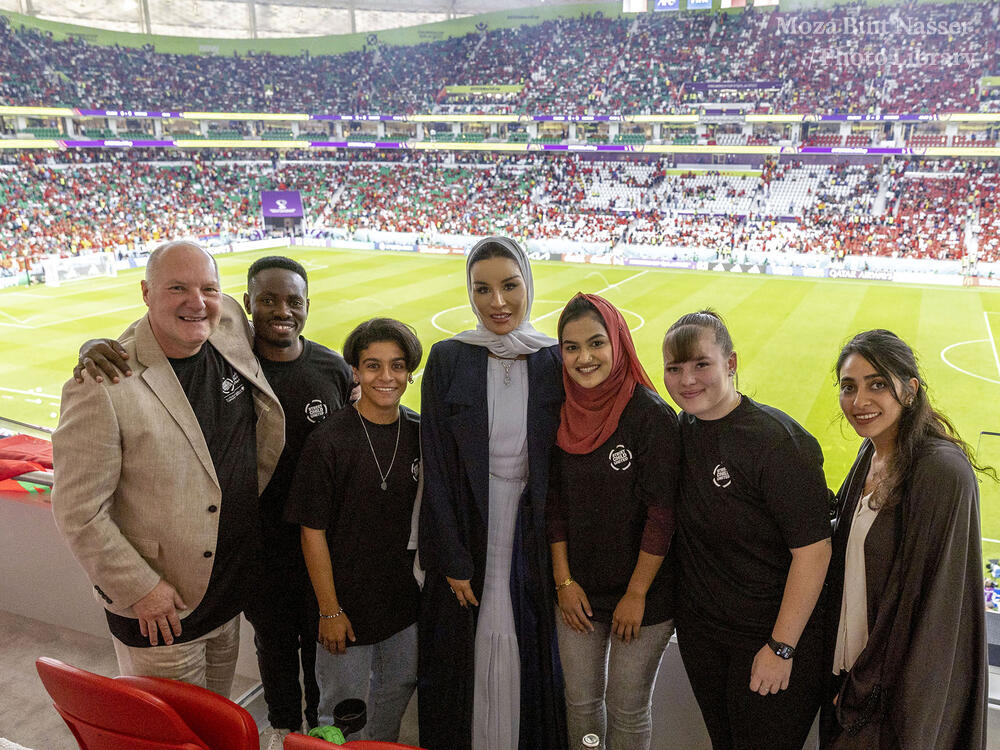 HER HIGHNESS SHEIKHA MOZA BINT NASSER ATTENDS STREET CHILD UNITED LAUNCH OF 'ONE MILLION AND ONE' CAMPAIGN
---
Today, Street Child United officially launched 'One Million and One', a global campaign to secure birth registrations for one million and one children living in street situations worldwide.
In front of a select audience that included Her Highness Sheikha Moza bint Nasser, Chairperson of Qatar Foundation, and Her Excellency Sheikha Hind bint Hamad Al Thani, Vice Chairperson and CEO of Qatar Foundation, partner organizations and supporters, John Wroe, co-founder and CEO of Street Child United (SCU) announced the legacy initiative following the success of the recent Street Child World Cup, delivered in partnership with Qatar Foundation.
The campaign, which will run between the FIFA World Cup Qatar 2022™ and the FIFA World Cup 2026™ in North America, will be a collaboration of efforts and include several milestones along the course of the four years, including the Street Child Cricket World Cup 2023, India; the Street Child Games 2024, Paris and the Street Child World Cup 2026, North America.
Explaining the ambitious initiative, John Wroe said: "It is estimated one billion people don't have an identity, over half of whom are children. Children who are deprived of their basic human rights. Children who are without access to basic services - education, healthcare, and social care. Children who, without legal identification like a birth certificate, are essentially invisible. How do we change this? Birth registration.
"'One million and one' is by far our most ambitious legacy campaign to date, but we believe with the support of our partners we can fulfil this game changing movement and give every child the right to live the life they truly deserve.'
SCU, alongside partners Consortium for Street Children, Toybox, Muslim Hands and a further 50 non-profit organizations working directly with street-connected young people in country, will work together to achieve this goal.
The campaign will also be supported by an official documentary piece that will be released on the International Day of Street Children on 12 April 2023, at an exclusive premier in New York, supported by a story series that will share the inspiring voices of children behind the goal.