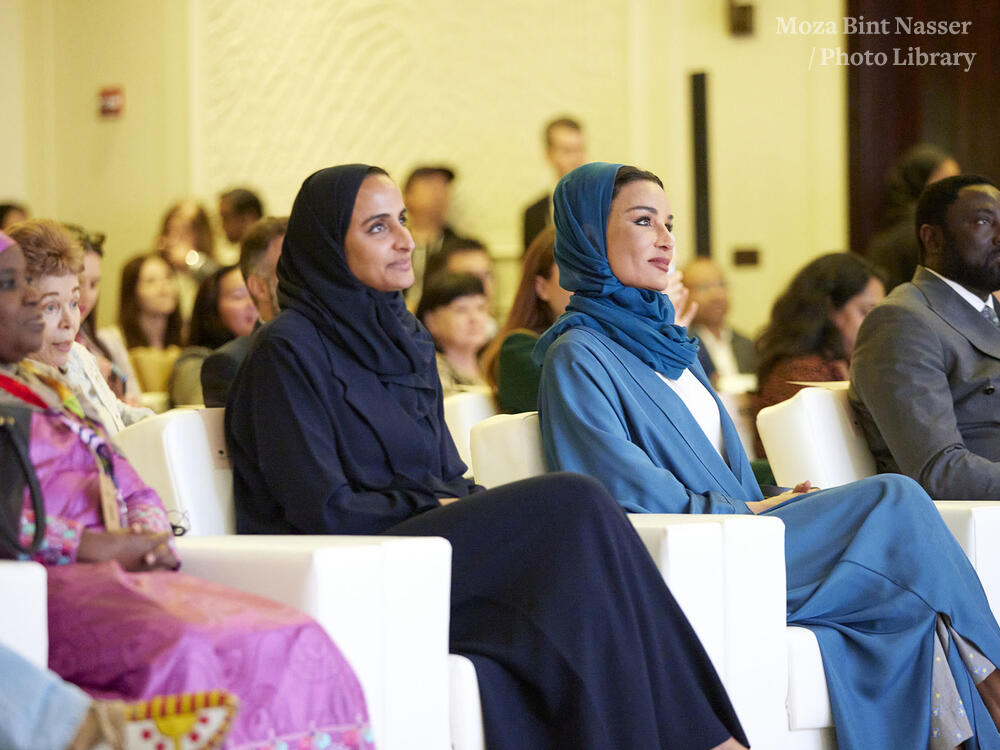 Her Highness Sheikha Moza Attends Closing Ceremony Of Qf's Earthna Summit
---
Her Highness Sheikha Moza bint Nasser, Chairperson of Qatar Foundation, today attended the closing of the Earthna Summit 2023. The two-day summit spotlighted Qatar and other counties with hot and arid climates and placed them at the center of the global sustainability conversation, highlighting the critical adaptation needs of countries with such climates and exploring options as the world moves towards energy transition.
Qatar Foundation's Earthna Center for a Sustainable Future hosted the conference, under the theme of "Building New Sustainability Pathways for Hot and Arid Environments", and brought together experts, policymakers, and delegates to discuss food and security adaptation; climate change and energy transition; resilient cities; and biodiversity.
Also in attendance at the closing session was Her Excellency Sheikha Hind bint Hamad Al Thani, Vice Chairperson and CEO of Qatar Foundation. Speaking at the closing session Dr. Gonzalo Castro de la Mata, Executive Director of Earthna, explained how sustainability – both in meaning and in practice – differs from country to country, especially from climate to climate, and highlighted how developing frameworks to deal with hot and arid environments is different to developing frameworks for those with temperate or tropical environments.
"Qatar's economy is not supported by its natural environment," he said. "Instead, it is an economy where its non-renewable natural capital in the form of gas is transformed into human capital, infrastructure, and savings and investments. Sustainability needs to be understood in this context.
"In this sense, we have clearly established that globally recognized sustainability frameworks must be adapted to reflect our unique and challenging environment, and those in other hot and arid countries."
Dr. Castro de la Mata went on to highlight a key takeaway from the conference, focusing on how cultural heritage and indigenous knowledge should be utilized by nations to inspire modern sustainability approaches.
"We have gained a greater understanding of traditional practices, and the impact that these can have on ecosystem management and climate adaptation today," he said. "We have also looked at how we can draw inspiration from Islam and different faiths, and historic cultural practices to promote more sustainable lifestyles today."
Another key theme of the summit was the role of today's young people. The first session of the day, 'Governing our Climate Future', featured a discussion emphasizing the need to empower the younger generation and include them in critical policy-making conversations for the planet's future.  
His Excellency Bader Omar Ismail Al Dafa, Special Envoy of the Minister of Foreign Affairs for Climate Change and Sustainability, and Executive Director of the Global Dryland Alliance, said: "My happiness comes from seeing the youth in this hall. The youth of today are the leaders of tomorrow, and so, it is important that from an early stage they should be given a seat at the table so we can hear their views in the decision-making process." 
Three students – Noora Faisal Al Dosari, Sara Faisal Al Dosari, and Hamad Nasser Al Thani – from Activists in Action, of QF's Qatar Academy Doha, joined experts on stage to ask them questions.  "We use water every single day, and one of the UN Sustainable Development Goals is access to clean water and sanitation for all. My question is with freshwater becoming scarcer, how can you ensure equitable access to water?" Noora asked.  
Other discussions on the final day included "Youth Empowerment for a Sustainable Future", "Governing our Climate Future", "Faith, Ethics and the Environment", and "Green Tech and Decarbonization".
Attendees were also given the opportunity to visit "Earthna Village", a sustainability-focused exhibition showcasing indigenous and sustainable practices and hosted short, interactive discussions.